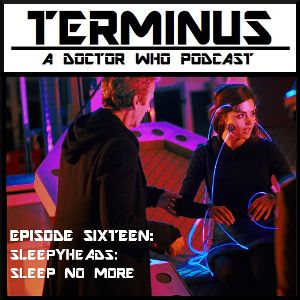 A little shorter of an episode than usual for me, but also one a bit on the political side of things this time around (yet again — though hopefully this won't be a usual thing), here is my belated episode discussion of the recent Mark Gatiss story, 'Sleep No More'.

Inside you'll find some happy Jessica Jones gushing, some allusions to ancient rad vs. trad fandom debates, chat about transphobic microaggressions and internalized prejudice, and a wee bit of roller derby squeeing thrown in for good measure.
So, anyway, I hope you all will join me for my review and episode discussion. And, as always, glad to have you all aboard. Enjoy the ride!


Table of Contents:
0:00:00 – Opening and Welcome
0:02:15 – Happy Fandom Time
0:09.10 – Discussion of "Sleep No More"
0:25:38 – Coming Soon on the Next Episode! (Plus Goodbye, Thanks, and Outro!)
Go here for download link and show notes:

http://terminus.libsyn.com/terminus-podcast-episode-16-sleepyheads-sleep-no-more
________________________________________


Links:

+ Website:
http://terminus.libsyn.com
+ RSS feed:
http://terminus.libsyn.com/rss
(on Livejournal, you can use:
http://terminusdwcast.livejournal.com/
)
+ Email: terminusdwpodcast@gmail.com
+ Stitcher:
http://www.stitcher.com/podcast/nicole-mazza/terminus-a-doctor-who-podcast?refid=stpr
+ iTunes:
https://itunes.apple.com/us/podcast/terminus-a-doctor-who-podcast/id666615900
+ Facebook:
https://www.facebook.com/groups/terminusdwpodcast/
(the social group) or Like Us at:
https://www.facebook.com/TerminusDWPodcast
+ Twitter:
https://twitter.com/TerminusCast
+ Tumblr:
http://terminusdwpodcast.tumblr.com
+ Terminus Amazon Online Store:
http://astore.amazon.com/teradocwhopod-20
+ Music Theme: 'Violin Doctor Who Theme' by ViolinistBAKA (
http://www.youtube.com/watch?v=ozb1lLifBJY
)
+ Earth Station One Network:
http://esopodcast.com/